Image Credit – Sofianna P
I am currently exploring Bali, Indonesia, and have fallen deeply in love with the local food. While these dishes are popular across the country, Bali is just one out of 17,500 islands, and Indonesian cuisine is strikingly diverse and varied across its regions.¹
Nasi Goreng
Indonesia's national dish is the nasi goreng; a full flavored and mouthwatering meal which translates to "fried rice." It can be bought for as little as £1 and has garnered global respect, having been voted the world's second-most favourite dish, and is also very common in Malaysia, Singapore and Sri Lanka.²
While the base of the meal contains rice, sweet soy sauce and a bit of frying oil, nasi gorengs are typically served with an egg on top and can include beef, seafood, tempeh, tofu and vegetables, as well as extra toppings like crispy fried shallots, fried prawn crackers, and chilli paste, having some great heat to it.
There are endless varieties of nasi goreng, as the dish has no fixed recipe, making it very adaptable. It can be eaten for breakfast, lunch and dinner, and is available all around Indonesia; from food carts to five-star hotels. A personal favourite is the nasi goreng sambal matah that I had in Ubud, (pictured below) served with corn fritters, tofu coated in a satay sauce, and cashew nuts in a sambal matah sauce. Satay sauce is widely used across Indonesia and in Southeast Asian cuisine, made of ground-roasted peanuts and different spices.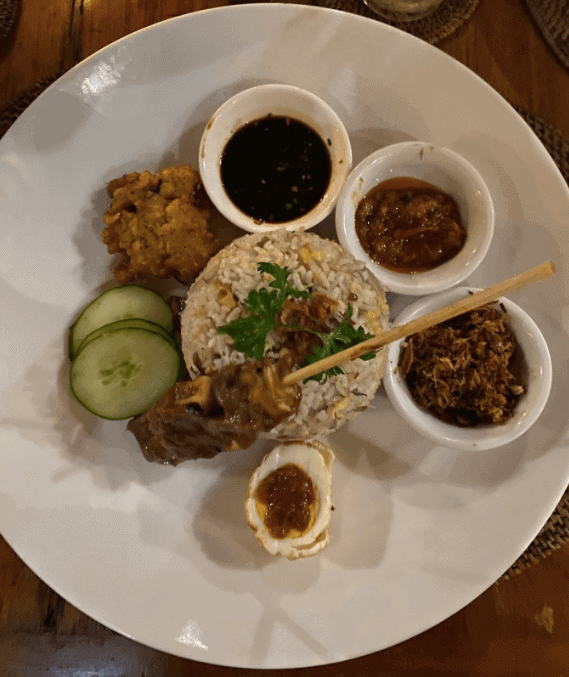 The recipe for the nasi goreng dates back as far as the 10th century when Southern Chinese migrants arrived in Indonesia for trade. Like Indonesians, the Chinese hate wasting food, deeming it sinful, and thus the dish was originally crafted as a method of preserving leftovers.³ Basically any scraps from the day before were fried in a dish with rice and soy sauce. Over the centuries, the nasi goreng has been adapted to Indonesian preferences, becoming a sweeter dish as they opted for sweet soy sauce (called kecap manis) instead of normal soy sauce that the Chinese initially used in their recipe.⁴
Pisang Goreng
Pisang goreng, also known as banana fritter, is another dish popular across Indonesia. This deep fried banana is usually served alone when bought from street markets and vendors, however, some restaurants and cafes may opt to serve it with chocolate sauce or powdered sugar. While it is always tough to turn down chocolate, I advise having the pisang goreng alone, as the bananas in Indonesia are naturally incredibly sweet.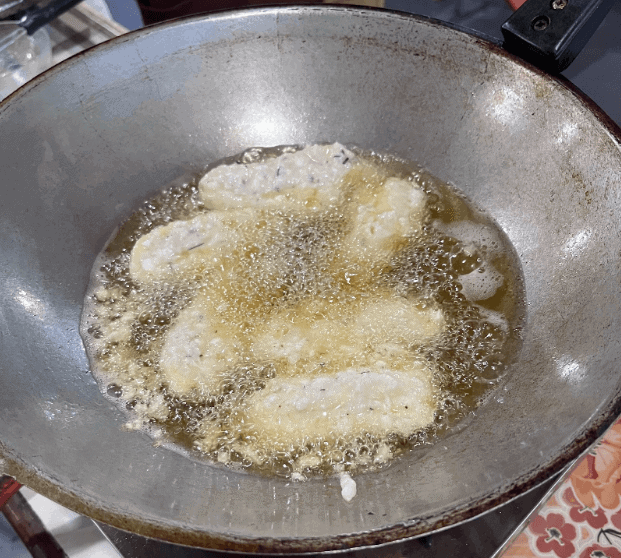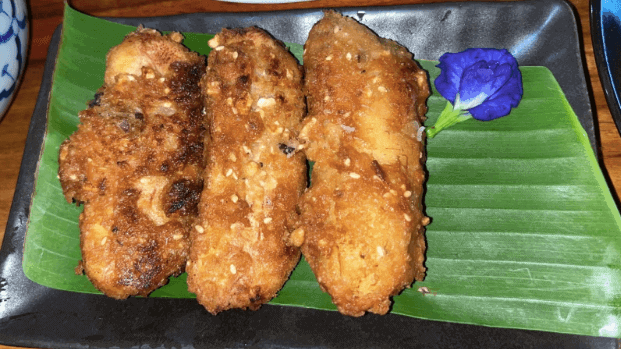 Bananas are a staple food in Indonesia as the country is one of the biggest banana producers, growing over 1,000 different species.⁵ They play a significant role in Indonesia's religious ceremonies, seen as holy in Balinese Hindu culture, and banana leaves are made into containers to present offerings to the Hindu deities. The banana leaf is also used for culinary purposes across the country to wrap food both hot and cold, as its natural wax coating provides good insulation and can withstand temperatures as high as 100°C.⁶ Banana trees take less than a year to fully grow, and their leaves are full of natural antioxidants that can be absorbed into the food it wraps.⁷ Traditional methods of packaging like the banana leaf should be considered as potential solutions to the current problem of single-use plastics, being both sustainable and economical.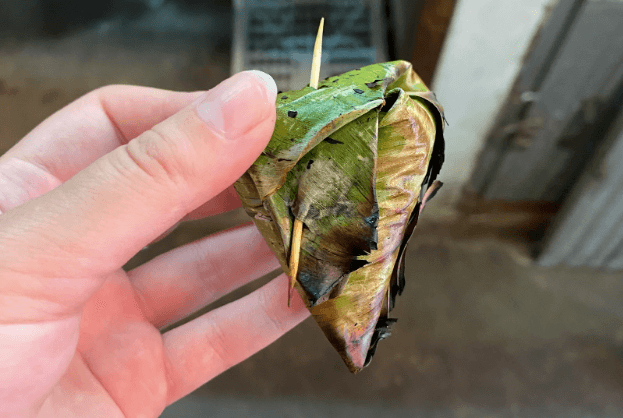 Gado-Gado
Gado-gado (translates to medley/potpourri) is a dish containing mixed vegetables and a generous portion of satay sauce. It bears many similarities with the nasi goreng; having wide varieties and often served with rice, an egg, prawn crackers, fried tempeh, and tofu. Gado-gado may have also originated from the Chinese in the 16th century, however it is mostly agreed that its origins lie in Jakarta.⁸ I had the pleasure of trying gado-gado rolls with tempeh and tofu, although the dish is typically served as a salad, with any extras piled on the top.
It is vital to indulge in locally sourced food when traveling abroad. Not only does this respect a country's culture and contribute to the local economy, but it also provides for an opportunity to learn ways from different cultures on how to address a shared global crisis. Indonesia's long-lasting traditions of preserving leftovers and using sustainable food packaging should serve as an inspiration to tackling some of the biggest problems that the world is currently facing with food waste and plastic packaging.
Useful Resources
Rifqi Listyawan Pratama and Junianto, 2021. Banana Leaves as A Natural Food Packaging : A Review, 9(12), pp. 625-628. Available at https://www.globalscientificjournal.com/researchpaper/Banana_Leaves_as_A_Natural_Food_Packaging_A_Review.pdf
The Independent, 2019. Researcher advocates for widespread use of banana leaves to wrap food. Available at https://theindependent.sg/researcher-advocates-for-widespread-use-of-banana-leaves-to-wrap-food/ [accessed 27/10/22]
East Spring Investments, 2021. Be-leaf in sustainable traditions. Available at https://www.eastspring.com/insights/lighter-reads/be-leaf-in-sustainable-traditions
Works Cited
¹Britannica, 2022. Indonesia. Available at https://www.britannica.com/place/Indonesia [accessed 27/10/22]
²CNN, 2017. Your pick: World's 50 best foods. Available at https://edition.cnn.com/travel/article/world-best-foods-readers-choice/index.html [accessed 27/10/22]
³Word Cuisine: History and Recipes, 2022. Nasi Goreng/Indonesia. Available at https://worldcuisinehr.com/en/nasigoreng/ [accessed 27/10/22]
⁴William Shurtleff and Akiko Aoyag, 2011. History of Tempeh and Tempeh Products (1815–2011): Extensively Annotated Bibliography and Sourcebook. p 618. Available at https://www.soyinfocenter.com/pdf/148/Temp.pdf [accessed 27/10/22]
⁵Bahasa Indonesia, 2022. Background – Bali International Research Center For Banana. Available at https://bircb.unud.ac.id/en/about-us/background/ [accessed 27/10/22]
⁶The Independent, 2019. Researcher advocates for widespread use of banana leaves to wrap food. Available at https://theindependent.sg/researcher-advocates-for-widespread-use-of-banana-leaves-to-wrap-food/ [accessed 27/10/22]
⁷East Spring Investments, 2021. Be-leaf in sustainable traditions. Available at https://www.eastspring.com/insights/lighter-reads/be-leaf-in-sustainable-traditions [accessed 27/10/22]
⁸Taste Atlas, 2022. Gado-Gado. Available at https://www.tasteatlas.com/gado-gado [accessed 27/10/22]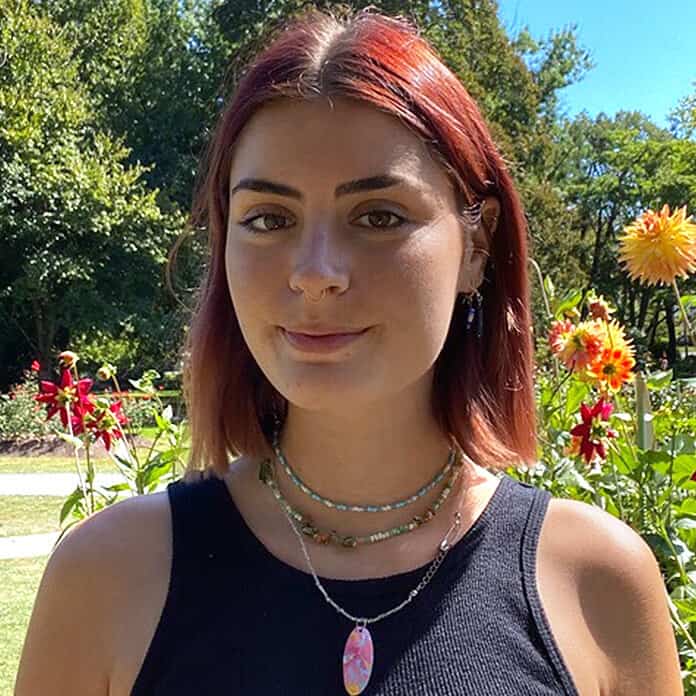 3/11/2022