Image Credit – @critical_waste
Festival season is in full swing with over 5 million Brits flocking up and down the country as an opportunity to unwind, listen to their favourite artists and relax. In this environment, it's easy to forget about the stress of the outside world. However, festivals can become a breeding ground for litter. With 23,500 tonnes of waste each year coming from festivals alone, the majority of which will end up in a landfill. Plastic straws, cutlery, food packaging, cups and bottles can usually be found discarded across acres of festival land and stacked up around bins. On top of this thousands of tents, gazebos, sleeping bags, air mattresses and camping chairs are abandoned on the festival ground leaving them destined for landfills or incinerators. This means that the responsibility to salvage still usable items falls heavily on the shoulders of volunteers and charities. In recent years there has been a push for climate justice, and festivals have been put under harsher scrutiny for how they can be doing better for the environment.
In 2019 the charities Help Refugee, Herts for Refugee and FWRD combined forces and worked their way from festival to festival clearing tents, sleeping bags, duvets, pillows, air mattresses, chairs and more. The charities only have a short window of time to work within to clear items, what they cannot clear will then be left for waste collectors. The salvageable items are shipped to Calais in Northern France for refugees and migrants. For those living rough this can be the difference between life and death in the colder months. As this is volunteer-based, there isn't enough manpower to cover each festival, so many leftover items will not be recovered and repurposed, leaving them for landfill or incineration.
Some festivals are taking a more head-on approach to combat waste. This year Glastonbury festival has required all who buy a ticket to sign a green pledge. Promising that they will take their belongings with them, use the bins provided and not throw rubbish on the ground, bag up all personal rubbish, use the toilets provided and use a reusable water bottle and avoid single-use plastic. Glastonbury made it easy to follow these guidelines by supplying bin bags, creating designated recycling pens and having water bottle fill-up stations. They also made sure that all food vendors and stall owners used environmentally friendly packaging, ensuring that all cutlery was FSC-assured wood. This year 99% of tents were taken home, minimising the amount of rubbish that will end up in landfill. Critical Waste, a sustainable waste management company, has worked with Glastonbury since 2008 clearing and sorting any rubbish that is left over from the festival. Any waste collected is then sorted through to determine what can be recycled and reused and then diverting it from landfill. Not only does this minimise the amount of rubbish that ends in landfill, it also keeps the net cost down.
Other festivals such as Bestival have offered a cash incentive to encourage festival-goers to clear up their rubbish, taking a £10 deposit which is given back on return of rubbish left at designated waste drop-offs. More initiatives like these need to be put in place to encourage those less eco-conscious to clear up after themselves. Until then it's up to the public who attend festivals to clear up their rubbish and take their belongings home.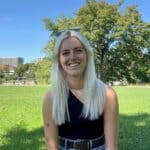 08/09/2022