Photograph by Ian Cylkowski
"The UK is the world's best target setter!" One or two attendees clap. "But that doesn't mean we know how to deliver." Oh.
On the morning of Wednesday 28th June 2023, at the sustainability event Reset Connect, Sir Jonathon Porritt 0 co-founder of Forum for the Future, campaigner and author – presented his keynote speech, 'Enough of the Delay on Net Zero!', with the same verve as its name suggests.
Porritt emphasised how the UK is incredibly skilled when it comes to setting targets and writing strategies. "We have strategies coming out of every government orifice you can imagine!" he told the packed room.
That line got a few laughs, before Porritt reinforced the fact that there is no coherent programme to change people's high-carbon lifestyles. The government, he explained, doesn't want to engage in communicating how challenging the transition is going to be.
He used the example of how we will depend on heat pumps to decarbonise the heating of homes and businesses across the UK, and how, to actually execute the government's proposed strategy to meet this challenge, we need to train 27,000 engineers to install these heat pumps. As a strategy, it's certainly ambitious…
Porritt's view on the UK government's ability to deliver climate change solutions was made abundantly clear with his statement on how "they're very comfortable having a foot in both camps"; those camps being fossil fuels and sustainable alternatives.
"Do not believe governments, especially the UK government; they're compromised. Look to yourselves."
To end the keynote on a lighter note, Porritt highlighted an anecdote about action-taking.
Premier Inn's parent company, Whitbread, after publishing a detailed science-backed transition plan, has already successfully trialled heat pumps across forty existing Premier Inn hotels.
If individual companies and organisations can formulate and execute a realistic plan of action, we don't need to sit idly by for the government to implement the radical new standards that are urgently required to bring a net-zero environment to reality.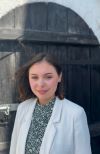 Author – Molly Burnell